2014 Dillenbeck Family Reunion (104th) Picture --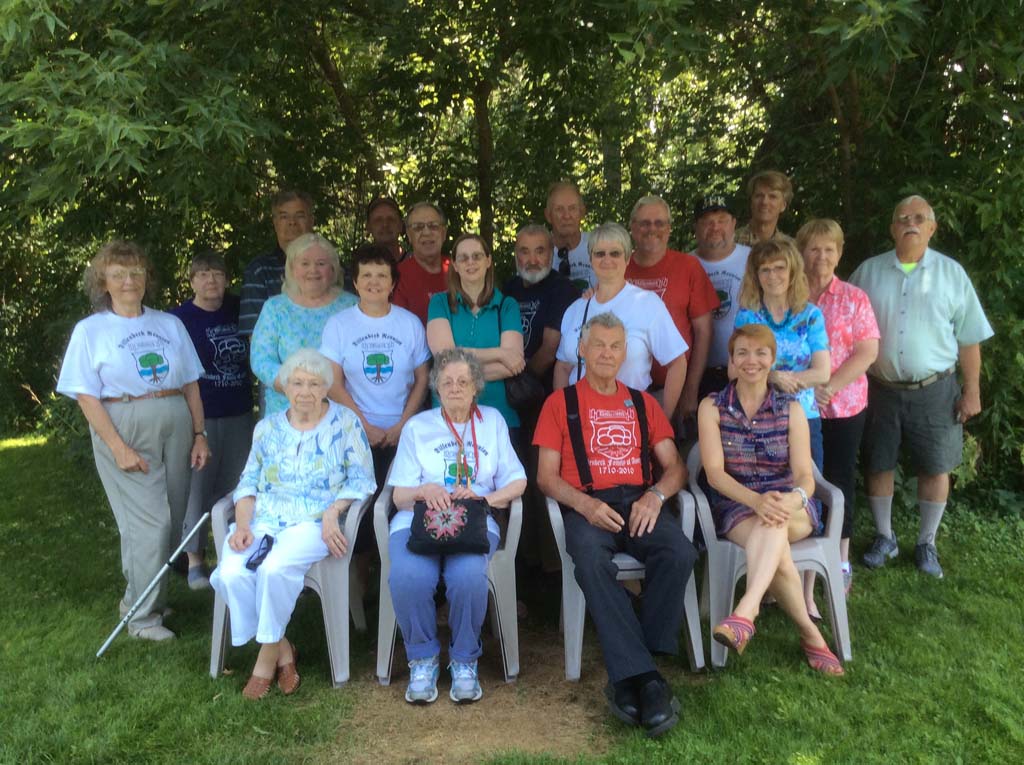 2013 Dillenbeck Family Reunion (103rd) Picture --


Pictured left to right front: Cameron and Makensie Dillenbeck
Sitting left to right: Elliot Brodie, Rose Dillenbeck, Dorothy Rantanen, Dave Manclow
Standing left to right: Melodyne Darrow, Barb Kineke, Sandor Kozma, Joe Spine, Sue Manclow, Walter Rantanen, Michael Walker, Sigrid Rantanen, Don Dillenbeck and Steve Darrow
---
The 103rd annual Dillenbeck Reunion was held Saturday and Sunday in the Mohawk Valley. On Saturday, a group of Dillenbeck descendants toured the restored Peter Kilts farm in Stone Arabia. Skip Barshied, who owns the property and restored it, was the tour guide.
In August of 1750 Peter Kilts purchased this 50 acre lot in the first division of the Stone Arabia Patent from the heirs of Philip Livingston. On October 19, 1780 during the battle of Stone Arabia, it is believed that all buildings on this property were destroyed to discourage the people from supplying General George Washington and his army with grain and food during the war. The buildings were later replaced.
In the 1870's the Kilts family moved to a farm a short distance south and the original property fell into disrepair over the years. In June of 1965 Willis Barshied Jr., or Skip, purchased the property and for the first time in 215 years it was removed from the Kilts family. Over the years he restored the buildings on the property and even purchased an old shoe shop and an 18th century house frame from other properties and reassembled them on the Kilts property. Among many buildings is an original Dutch barn. Skip has also collected many artifacts from the Palatine era and has them displayed on the property.
After the tour of the Kilts farm the group went to Trinity Lutheran Church for a buffet lunch. The current owner of the Peter Dillenbeck homestead led a tour through the old Dillenbeck house and cemetery after lunch.
On Sunday the reunion closed out with a picnic at Mick and Barb Kineke's home on Robinson Road in Mohawk. 17 people had lunch that consisted of dishes brought to pass. People attended from Chittenengo, Johnson City, Troy, Herkimer, Frankfort, Fort Plain and Appleton, Wisconsin. There were also two young girls who were from Germany visiting.
Next year the annual reunion will be held on August 9th and 10th. The details of events for next year's reunion will be available at www.dillenbeck.com in May of 2014. All Dillenbeck and Tillapaugh descendants are encouraged to check out the website and to join us each year for the annual reunion.
Submitted by Barb Kineke 315 360 5035
Important Notice: We have no more t-shirts, mugs or cookbooks.
---
Dillenbeck News:
I received the following e-mail from Gregg Dillenbeck:

I am trying to get more Dillenbecks to complete a DNA test to validate the family genealogy. I am also contacting Dillenbecks in Bern, Switzerland too.

By chance can you mention this on your Dillenbeck.com website?

There are several sites available for testing DNA. I have tested and registered on the Family Tree DNA site and also on the public site.

(If you would like to see those currently at the Family Tree DNA site, Click here.)


Click here to OPEN a copy of The Dällenbachs in America 1710 to 1935. Once the book (25.9Mb in .pdf format) finishes loading on your screen, click on the SAVE button and indicate where you want to save it on your computer. My connection took less than 5 minutes on my DSL.)
Dillenbeck Reunion Officers elected this year:

President: Dave Manclow, Fort Plain, NY
Vice President: Walter Rantanen, Appleton, WI
Secretary: Sigrid Rantanen, Troy, NY
Treasurer: Nancy MyClymonds, Leander, TX
New board members:

Kevin Dillenbeck
Melodyne Darrow, Chittenango, NY
Rose Dillenbeck, Johnson City, N.Y.
Joseph H. Spine, Utica NY
Barb Kineke, Mohawk NY
You can obtain a copy of the Dällenbachs in America 1935 to 1979 books at:
http://www.higginsonbooks.com/genealogies-d-dallenback.html

IS YOUR LAST NAME ON THIS LIST?
Dällenbach
Dallenbach
Dallenbaugh
Dellenbach
Dellenbaugh
Dellenbeck
Dilenback
Dilenbeck
Dillabaugh
Dillabough
Dillebach
Dillenbach
Dillenback
Dillenbag
Dillenbeck
Dillenbough
Dillenpach
Dillenpaugh
Helenbach
Tellenbach
Tilbag
Tillapaugh
Tellebach
Tillpach
Tillpaugh


If so.......
YOU may be a member of this illustrious family


The Dillenbeck family has been in the United States since 1710 when Jorg Martin Dällenbach came to America. Martin, as he was called, was born about 1690 in "Lauperswil." This small Swiss village is in the Alps mountains a few miles northeast of Bern, Switzerland. Since Martin's arrival, the Dällenbach name has undergone several transformations as the family branched out into the New World. The first change in the name occurred very early (in 1712) when Rev. Joshua Kocherthal, first pastor to the German Lutherans in the colony of New York, recorded the baptism of Martin's daughter Anna Margretha. The father is listed as "Jorg Dillenbach."

Even Rev. Kocherthal was not consistent with his mis-spelling: six months later, he recorded the second marriage of "Joerg Martin Dillenbach."


Please take a few minutes to browse through our web site. We would love to hear from you. Drop us a note and let us know what you think.


If you have information that we could possibly include in the next book or questions about your ancestors, please let us know.
....Kathy Dillenbeck


| Home | Genealogy Books | History | Anecdotes | Family Reunions | Links | Contact Us |

Questions or problems regarding this web site should be directed to: Kathy Dillenbeck



---

Copyright © 1999 Kathy's Bits & Pieces, All rights reserved.

---

Last Revised: May 14, 2012